Export Format
This section describes the settings for exporting symbols and graphics from symbol.army .
Overview
Here you have the option of specifying the export format and the dimensions.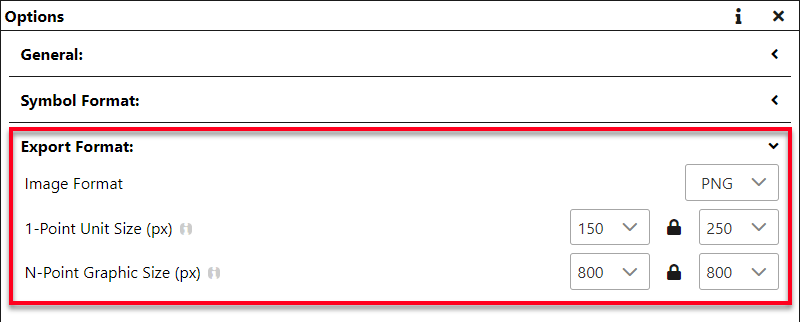 Image Format
You can download the symbols or graphics in vector or pixel format from the web application. The following formats are available:
Vector Formats
SVG (Scalable Vector Graphics)
EMF (Windows Enhanced Metafile)
XAML (Extensible Application Markup Language)
Pixel Formats
BMP (Windows Bitmap)
PNG (Portable Network Graphics)
JPG/JPEG (Joint Photographic Experts Group)
ICO (Windows Icon)
1-Point Unit Size
For Pixel Format you enter the width and height in pixels. The graphic is rendered to this size. Standard is 150 x 250 pixels. As long as the lock symbol is closed, the size is changed proportionally.
N-Punkt Graphic Size
Analogous to the symbols, this information applies to tactical graphics. The standard is 800 x 800 pixels.